Bell Works Career Day
May 9, 2019
10:00 am - 2:00 pm at Bell Works, 101 Crawfords Corner Rd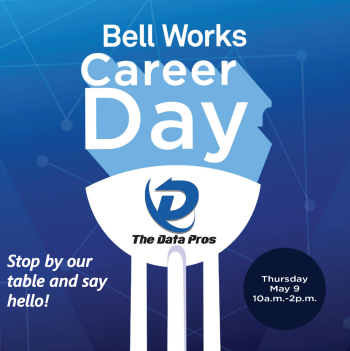 Looking for a place to start your career? Look no further than Bell Works! Stop by on May 9th between 10a.m.-2p.m. to meet The Data Pros team at the first annual Bell Works Career Day.
Whether you are a high school or college student looking for an internship or a professional looking for a new beginning, you won't want to miss this day.
The Data Pros team is looking for do-ers, go-getters, and dream chasers! At The Data Pros, employees have the opportunity to create their own path and use their creativity and passion to make an impact in a growing technology firm! We are seeking individuals who are looking to find a CAREER and not just a job!
Come join us and chat with our team about unique opportunities, and listen and learn from mini-workshops and speakers, including:
10:30 – 10:45 a.m. – Keynote speaker Ralph Zucker, President of Somerset Development
10:45 – 11:15 a.m. – Panel discussion with sisters Jamie Sztoser and Marissa Klein of staffing firm Choice Associates, business coach Casey DeStefano, Bell Works' Creative Director Paola Zamudio, and more to be announced.
12 p.m. – Resume Workshop
Breakfast bites provided.
We look forward to meeting you! Remember to bring your smile!
Dedicated to your Success,
The Data Pros Team