News
Stay on top of the technology trends, our monthly newsletters, and the latest happenings at Data Pros.
The Data Pros Named Microsoft 2016 US SMB Champions Club East Region - SMB Marketer of the Year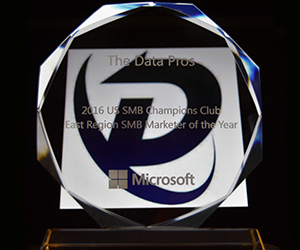 Holmdel, NJ —August, 2016 — The Data Pros announced it has been named 2016 US SMB Champions Club East Region SMB Marketer of the Year by Microsoft's US Small and Mid-size Business (SMB) Champions Club. The award recognizes the US SMB Champions Club partner who has demonstrated consistent and ongoing quality marketing efforts, successfully growing their customer base. Members of the US SMB Champions Club have shown dedication to arming the small business community with the right technology and services they need to be successful.
The Data Pros team of experts leverage the latest cloud technologies, plus a deep understanding of the small and medium sized business environment, to give you solutions on par with those used at larger enterprises – minus the costs, complexities and frustrations you might expect.
"We are honored once again to be recognized by Microsoft as one of the Partners leading the way in cloud adoption and cloud innovation." – Joseph Simuro, CEO The Data Pros
The Data Pros along with winners in six other categories were recognized during the Microsoft SMB Champions Award Reception in Toronto, Canada on July 11, 2016.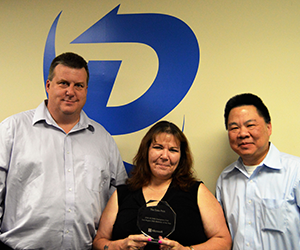 "Over the past year, our partners have helped to accelerate and deliver Microsoft's mobile first, cloud first approach to small businesses across the U.S.," said Cindy Bates, vice president of Microsoft US SMB and Distribution. "We value the continued commitment The Data Pros has demonstrated to delivering products and solutions that increase productivity and help small businesses do more with less time. We congratulate them on this well-deserved award."
The Microsoft Partner Network is designed to equip organizations that deliver products and services through the Microsoft platform with the training, resources and support they need to provide their customers superior experience and outcomes. Microsoft's US SMB Champions Club is an exclusive program designed for partners who have a proven track record of delivering Microsoft solutions to businesses in the U.S. small and medium business (SMB) segment and have committed to advancing their cloud business practice. As a member of the SMB Champions Club, partners can further their Cloud growth by utilizing the benefits obtained through their program status.